Ocala Fence offers full service repairs and full installs from residential to commercial applications for all major brands of gate openers.
We have certified gate technicians on staff.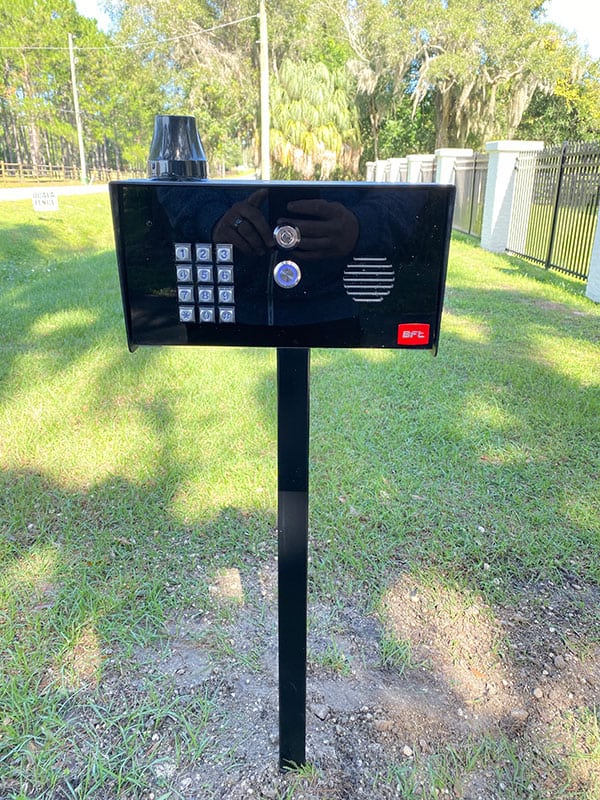 Ocala fence offers a wide range of high-quality commercial and residential gate operators. When it comes to slide gate operators, expect to find the best with Ocala Fence.

LiftMaster Residential swing gate openers come with a full suite of advanced features while providing the strength and reliability for everyday use. Sitting flush along the fence, LiftMaster slide gate openers have a minimal footprint yet provide maximum performance for any gate weight or frequency.
Swing and slide gates are designed to move across an entry control point to prevent or allow controlled access by authorized persons or equipment. Swing or slide gate systems are not necessarily completely autonomous systems, and require regular maintenance and inspection on a periodic schedule.
Although with certain safety devices in place the gate system could operate as a completely independent system free from human interaction for a defined period of time, human inspection and testing is required to ensure longevity and safe operation over long periods of time.
Safety and security are obviously a number one priority for both the manufacturer and the end user.
The manufacturers of the swing gate systems have performed countless hours of testing, analysis and statistical control analysis to ensure that the operators perform their intended function for extended periods of time. 
Ocala Fence will ensure and verify that all required safety devices are installed correctly and in a manner consistent with the requirements of the manufacture.
Additionally, all devices, security devices, safety devices, sensors and other affiliated attachments are installed in a robust manner that will prevent their accidental damage, removal or incidental tampering.
A basic requirement for this system to operate correctly is that at any time a sensor is triggered, covered, disconnected or otherwise tampered with, that the entire system ceases to function. If any part of the gate safety system is removed or triggered, an immediate safety action by the gate operator is expected (retraction or stoppage). If the gate safety system is not functional, or fails to operate within these guidelines, the gate should be immediately removed from service until repairs can be made.